In any position and at any time:
The best sofa comfort – custom-fit and individual
Sitting. Lying. Feet up… No matter what position: Comfort is key. Adaptable functions and high-quality materials create necessary comfort in any position.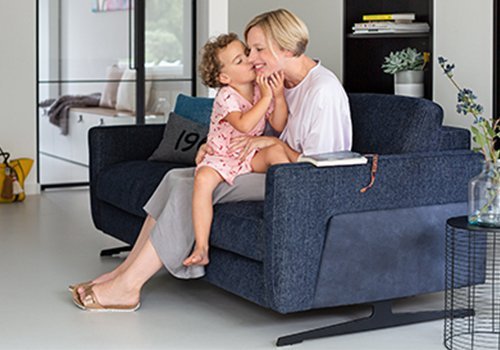 Optimum sitting comfort is a matter of course for rom1961: not too soft, not too hard – with a cover that is suitable for everyday use and can easily cope with more active families and larger parties.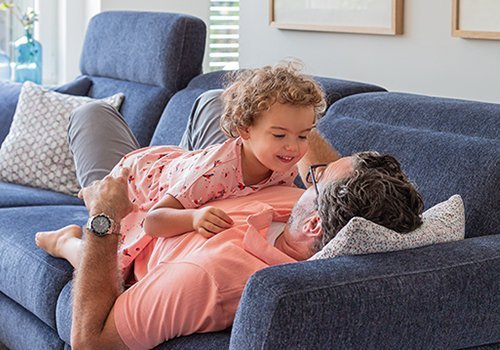 Happiness is a sofa on which you can be spread-eagled. Quiet. Relaxation and rest. And optimal comfort!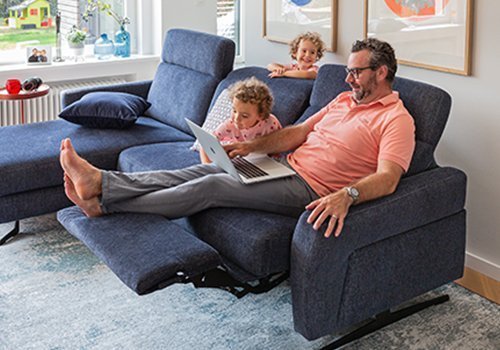 Relax on your sofa, put your feet up and just let go. rom1961 sofas are designed so that you can adjust the optimal relax position from head to toe.
Can you turn comfort into a formula? Of course!
A PERFECTLY COMFORTABLE SOFA
Precisely because comfort is very individual, rom1961 builds on three components when it comes to comfort: Outstanding quality, individual functions and unique seat design. Because one thing is clear: without one, the other would only be lukewarmly average.
A sofa is nothing but a sofa, unless it has the right features. Then it becomes a comfort sofa!
Adjustable headrest
Manual or electric
Relaxation from head to toe: Optional headrest function for every seat. It can be adjusted manually or electrically (ZEN). Just lean back and give your neck muscles a well-deserved break
Adjustable seat depth
Enlarge the seat, put your legs up and relax. This is comfort! With our VARIO option, you can adjust the seat depth electronically. Thanks to a variable seat surface, you can switch between a perfect sitting experience and a relaxing position at the touch of a button.
Recliner function
Couches with recliner functions are a thing of the past. We focus on the perfect wellness experience and call it Max Relax. A seat element quietly glides into a recliner. You determine the exact position. From 100 cm width, this comfort function is approved for two people. ./p>
Swivel seat
More space in less space: With the TURN option, you can turn the seat cushion of your ottoman by 90 degrees. This creates a comfortable reclining surface for several people. Ideal for cosy TV evenings with your whole family.
USB connection
In every seat element with electric function of our sofas, there is a practical USB connection between the seat and the backrest as standard. This is the end of not-so-pretty and impractical mobile phone or tablet charging cables that have to be laid across the sofa.
Easylight
Technology should offer comfort – it is not supposed to dominate. A few buttons are sometimes all you need to see. Seating elements that only have ZEN and/or WARM UP (seat heating) are operated via Easy Light button. Easy to reach, simple, functional and elegant.
Perfect seat construction
Optimal upholstery in two different degrees of firmness
The combination of seat structure and perfect functions turns your sofa into something special
Pleasently firm seating comfort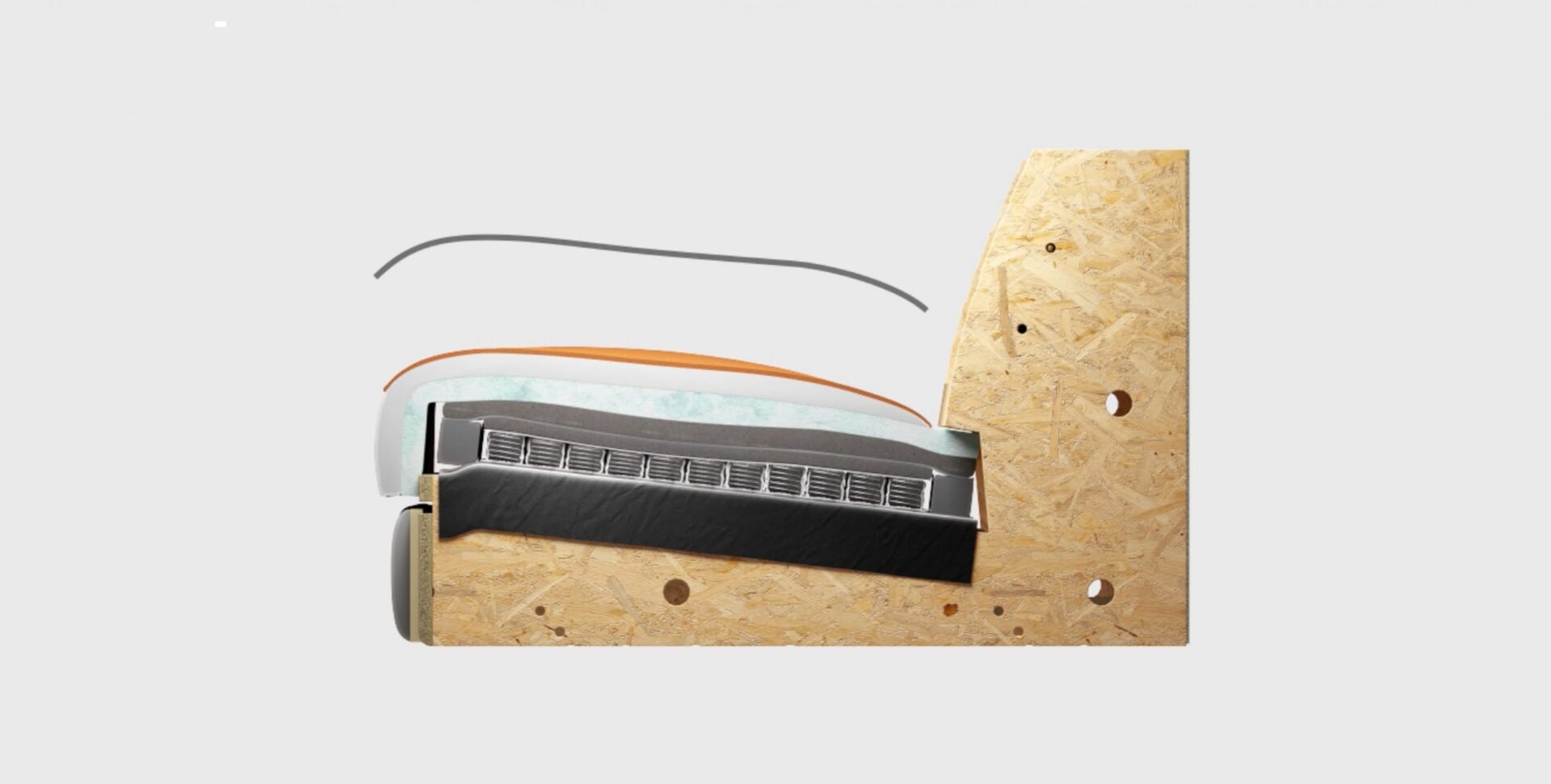 Boxspring+ offers the highest level of sitting and reclining comfort and transforms every sofa into a perfect oasis of well-being. This is not achieved by chance but the individual layers are perfectly coordinated: Components such as Bioflex foam and pocket spring core, in combination with other high-quality materials, achieve excellent and pleasantly stabilising upholstery.
Boxspring+
Durably stable and even sitting surfaces
Excellent weight distribution
High point elasticity
Climate control and good hygiene properties
Pocket spring core made of 1.8mm thick wire
Firm quality foam 55kg/m3
Soft and gentle seating comfort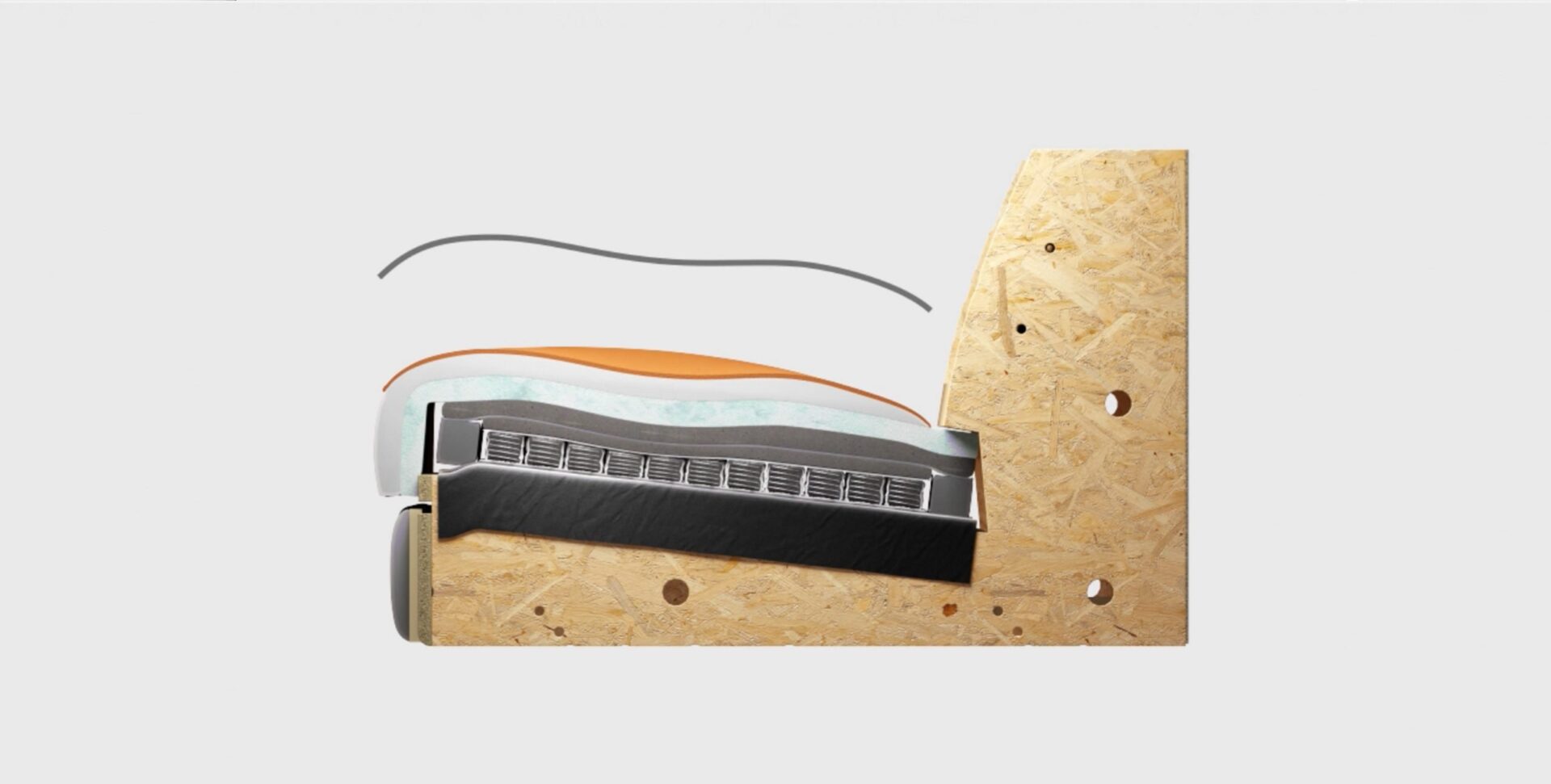 Seats upholstered with Dynaspring give an incomparably comfortable seating feeling thanks to sophisticated high-tech upholstery. The structure is the same as with Boxspring+, but Dynaspring components are more elastic and therefore give slightly more. The result is upholstery that gently encloses without sacrificing dimensional stability.
Dynaspring
Durably stable and evenly soft sitting surfaces
Excellent weight distribution
High point elasticity
Climate control and good hygiene properties
Pocket spring core made of 1.6mm thick wire
Soft quality foam 55kg/m3
Experience unique rom1961 comfort –
at your local dealer around the corner!
Would you like to test the comfort of our sofas? Then visit your local dealer and experience quality and functions first hand. You can obviously also get to know our upholstery fabrics right here and bring your dream sofa to life virtually with our on-site advisors. We are here to make your sofa dream come true. Down to the last detail.